Welcome to Kiruna!

Dog sledding in Kiruna is an amazing experience! This small town is way up in Swedish Lapland, and it's a special place for people who love winter sports. One of the most exciting things to do here is dog sledding.
Long ago, the Sami people who lived here used dog sleds to get around, and now it's a popular activity for tourists who want to explore the Arctic wilderness in a fun way. When you go dog sledding in Kiruna, you get to see breathtaking landscapes, meet friendly dogs, and feel connected to nature.
The dogs that pull the sleds are called Alaskan Huskies. They are strong, beautiful, and really friendly. As you glide through the snowy forests and mountains, you'll get to spend time with the dogs and learn about how they are trained and taken care of. These dogs are well-loved and well-trained, and they absolutely love running and pulling the sleds!
Here's your comprehensive and complete guide for how to plan a great husky sledding adventure in Kiruna.
ENJOY THE best Dog sledding TOUR in Kiruna
---
Morning Self-Drive Huskysledding Tour!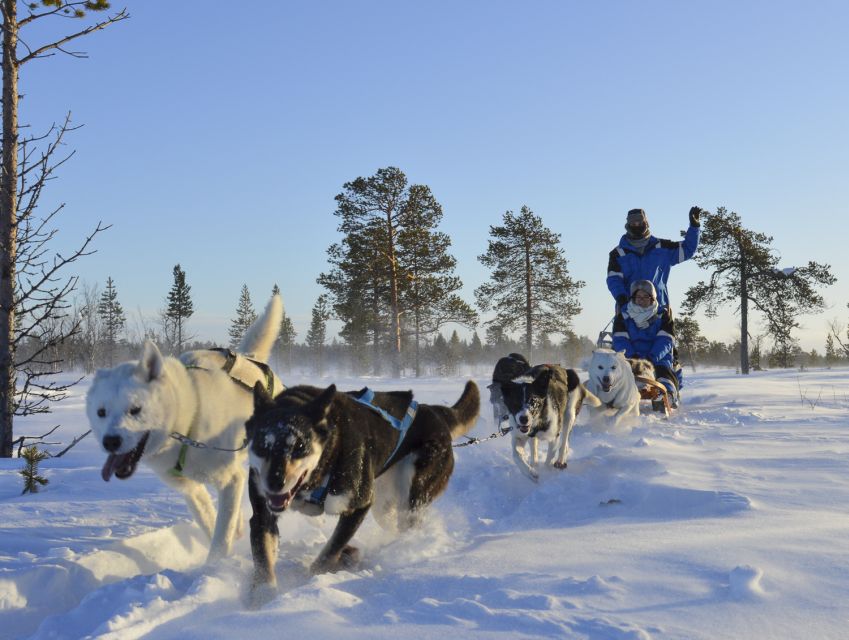 We'll pick you up in Kiruna and take you to our home in Kalixforsbron, where you'll meet our amazing dogs and gear up in warm winter clothing and shoes that we provide.
Before we head off into the wilderness, you'll learn how to handle and harness the dogs. You'll share a sled with another participant, taking turns steering and sitting, while our guide gives you detailed instructions for your safety and the safety of our huskies.
During the tour, we'll cross frozen lakes, explore silent forests, and traverse sweeping marshlands, keeping an eye out for local wildlife such as reindeer, moose, arctic hares, or even the official bird of Kiruna, the "Ripa" the Ptarmigan.
After our adventure, we'll head back to our home and warm up around an open fire in our Nordic tipi with hot soup and sandwiches, followed by traditional Swedish Fika.
About this activity
Highlights:
Become a musher for the day and steer a sled pulled by friendly huskies
Learn from expert guides about huskies and the stunning Swedish tundra
Enjoy tea, coffee, and a light meal in our traditional Sami Tent after the tour.
Don't forget your camera!
What's Included:
Hotel pick-up and drop-off included
Winter gear provided, including snowsuit, winter boots, gloves, hats, and socks
Guided tour experience with expert guides
Light lunch included
Additional Information:
Free cancellation policy – Cancel up to 24 hours in advance for a full refund
Reserve now & pay later – Book your spot and pay nothing today
Duration of the tour is 5 hours
Live tour guide who speaks English
Hotel pickup is included – Please wait in the main reception at 9 am (starting time)
Small group tour – Limited to 8 participants
Check availability to see starting times.

---
Afternoon Self-Drive Huskysledding Tour!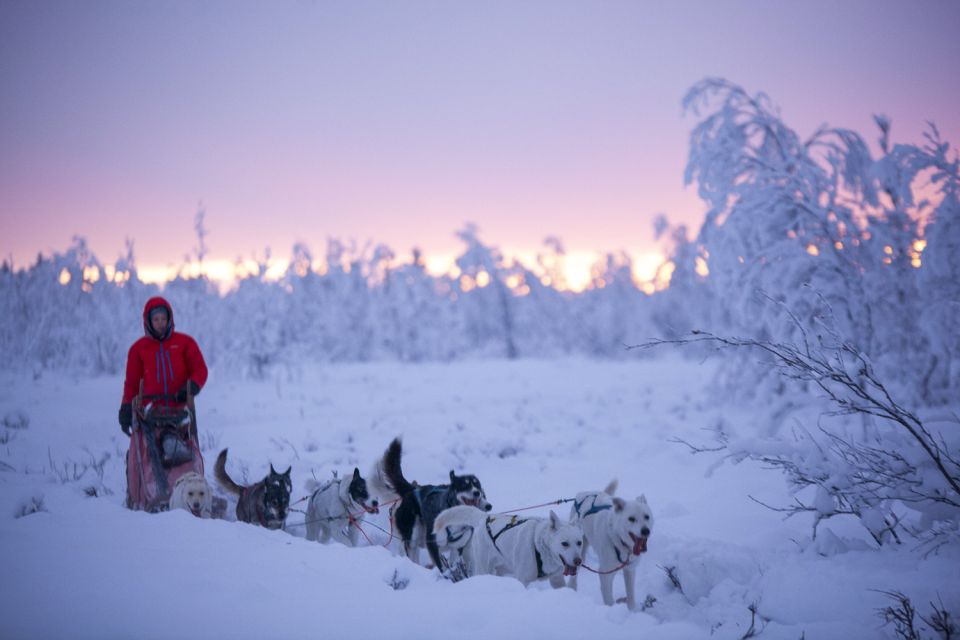 Get ready for a snowy adventure in the beautiful Swedish Lapland on this guided dog sled tour! You'll witness the transition from day to night as you barrel through the countryside.
Your adventure begins in Kalixforsbron, where you'll meet our furry friends and get dressed up in warm winter clothing and shoes provided by us. You'll learn how to harness and handle the dogs, and our expert guide will give you a detailed safety briefing before you embark on your journey under the starry polar night sky.
Work together with the well-trained huskies as they pull you through the stunning snowy landscape along the Kalix River. It's an unforgettable experience! After your dog sledding adventure, you'll warm up around an open fire in a cozy Nordic tent and enjoy a traditional Swedish Fika.
About this activity
Highlights:
Sledding through the snow-covered Lapland countryside
Expert guides who will teach you about the huskies and the Swedish Lapland
Warm up with a traditional Swedish Fika in an authentic Nordic tent
Take the reins yourself and feel the thrill of the ride
Enjoy the stunning views of the sparkling, snow-covered landscape lit by the sunset
Don't forget your camera!
What's included:
Hotel pickup and drop-off
Snowsuit, winter boots, gloves, hats, and socks
Guided dog sledding tour
Swedish Fika with cookies, tea, and coffee
Additional information:
Free cancellation available
Full refund for cancellations made up to 24 hours in advance
Reserve now and pay later
Duration of the tour is 4 hours
Check availability for starting times
Tour is led by a live guide who speaks English
Small group tour with a maximum of 8 participants
---
History of dog sledding in Sweden
Dog sledding has a long history in Sweden, dating back to the early days of the Sami people, who have lived in the northern regions of Sweden, Norway, Finland, and Russia for thousands of years. The Sami people have traditionally relied on reindeer for transportation and sustenance, but they also used dog sleds for transportation during the winter months when the ground was covered in snow and ice.
In the 19th century, dog sledding became increasingly popular in Sweden as a means of transportation in the northern regions of the country, particularly for mail and goods delivery. The use of dogsleds also expanded to other areas like logging, hunting, and fishing.
During the 20th century, dog sledding became a popular recreational activity in Sweden, with the rise of commercial dog sledding companies offering tourists a chance to experience dog sledding for themselves.
In recent years, dog sledding has become a popular tourist activity in Sweden, particularly in the northern regions of the country. Many companies offer dog sledding tours, from short rides to multi-day expeditions, allowing visitors to explore the remote wilderness while being pulled by a pack of hardworking and friendly sled dogs.
Sweden also has a strong tradition in dog sled racing, with many races taking place in the country, and the most well-known being the Femundløpet, a long-distance race that takes place every year in Norway and Sweden.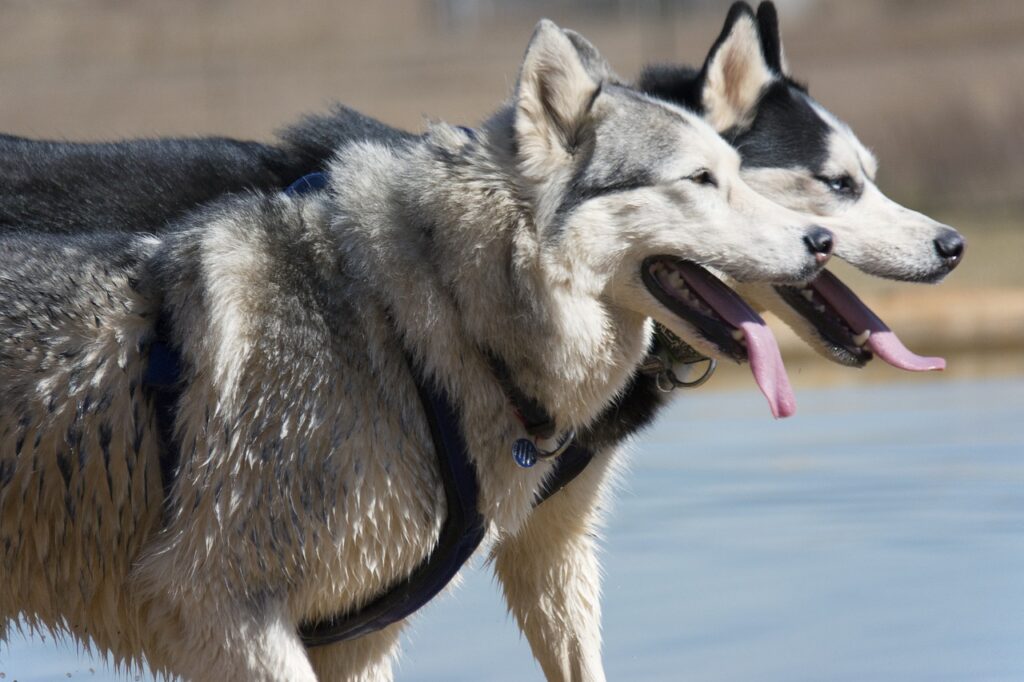 Why are huskies the best dogs for dog sledding?
Some of the reasons why huskies are considered the best dogs for dog sledding include:
Endurance: Huskies were originally bred by the Chukchi people of northeastern Asia to pull heavy loads over long distances in harsh, snowy conditions. They have a high level of endurance and can run for hours without getting tired.
Cold tolerance: Huskies have a thick double coat that keeps them warm in subzero temperatures. They also have a lower metabolic rate than other breeds, which allows them to conserve energy and stay warm in extremely cold weather.
Speed: Huskies are known for their speed and can run at a steady pace for hours on end.
Strong build: The breed has a strong and athletic build, able to pull heavy loads in tough conditions.
Love for running: Huskies have a high energy level and love to run. They enjoy working in teams and are highly trainable.
Temperament: The breed is known for its friendly and outgoing nature, which makes them easy to work with and great companions.

All of these characteristics make huskies well-suited for dog sledding, as they are able to handle the physical demands of pulling a sled over long distances in harsh conditions while also being easy to train and work with. They are efficient and dependable in adverse weather conditions, strong and durable, and with a steady temperament, it makes them one of the best dog breeds for dog sledding.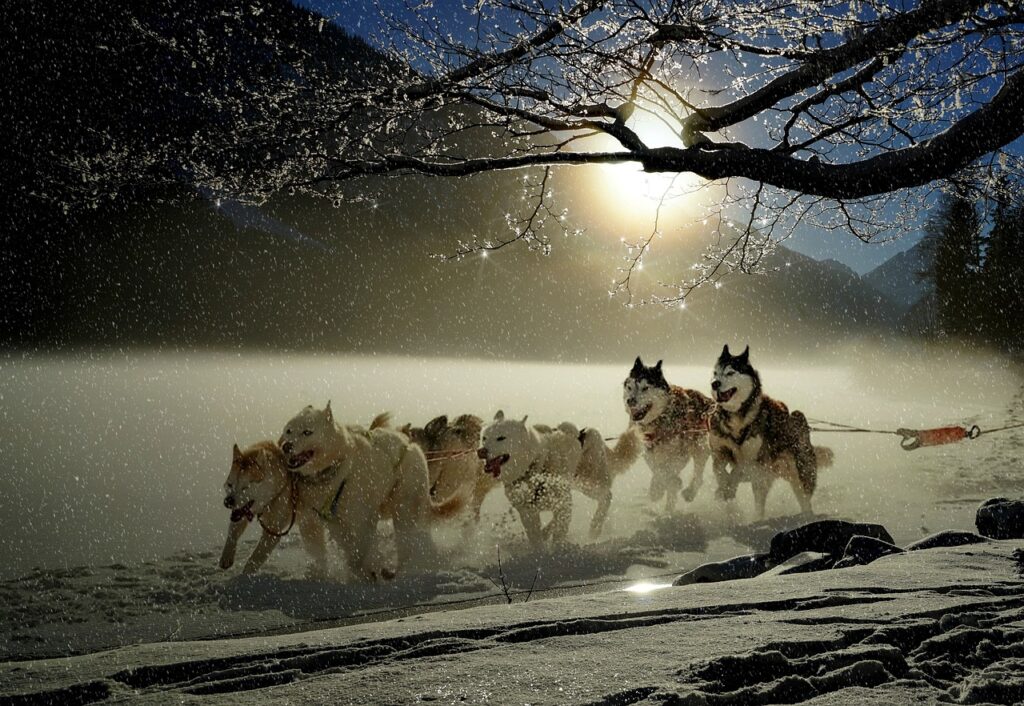 Dog Sledding Equipment Explained
Dog sledding equipment includes a sled, harnesses for the dogs, booties for the dogs' paws, and a sled bag or basket for carrying supplies. The sled is typically made of wood or metal and is designed to glide smoothly over snow and ice.
The harnesses are designed to distribute the weight of the sled evenly among the dogs and provide support for the dogs while they are pulling. Booties protect the dogs' paws from cold and rough terrain.
A sled bag or basket is used to carry supplies such as food and water for the dogs, extra clothing and gear for the musher, and any other necessary equipment. Some mushers also use a sled brake, which allows them to slow or stop the sled as needed.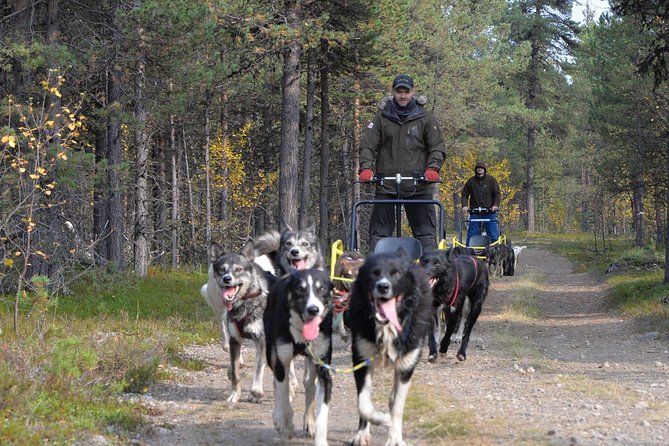 Is it possible to go dog sledding without snow?
Dog sledding is often associated with snowy winter landscapes, but did you know that it's possible to enjoy this exciting activity all year round? With the use of wheeled carts, also known as "dryland sleds," dog sledding can be enjoyed in any season, including spring, summer, and autumn.
One tour that offers this unique experience is the Autumn Husky Sit and Drive Cart Tour from Kiruna. This tour takes place in the beautiful landscapes of northern Sweden, where you will have the opportunity to drive your own cart pulled by a team of friendly and energetic huskies. The tour takes place on a specially designed track through the forest, providing a safe and exciting experience for participants of all ages.
What sets this tour apart from traditional dog sledding is the use of wheeled carts, which allows for a smoother ride and eliminates the need for snow. This makes it possible to enjoy the thrill of dog sledding even in the warmer months of the year.
The tour also provides the opportunity to learn about the care and training of the huskies, as well as the history and culture of dog sledding in the area. The tour guides are experienced and knowledgeable, and will ensure that you have a safe and enjoyable experience.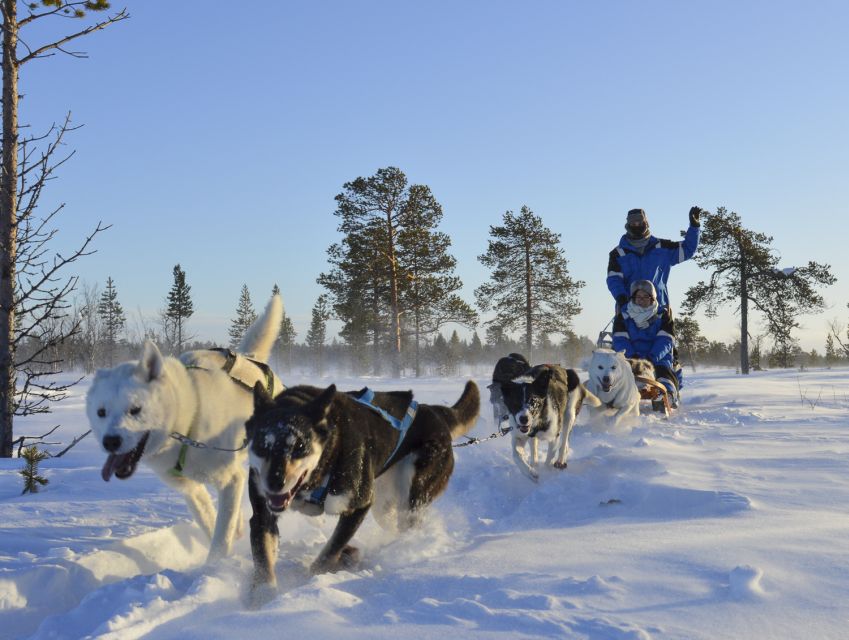 How do you prepare for a winter dog sledding ride in Kiruna?
A winter dog sledding tour in Kiruna can be a thrilling and unforgettable experience, but it's important to be well-prepared to ensure your safety and comfort. Here are some tips to help you prepare for your tour:
Dress warmly: Wear multiple layers of clothing, including a warm jacket, insulated pants, gloves, and a hat. Make sure your clothing is water-resistant or waterproof to protect against snow and ice.
Bring the right gear: Bring extra warm clothing and gear such as hand warmers, a face mask, and goggles to protect against the cold and wind.
Be in good physical shape: Dog sledding can be physically demanding, so make sure you are in good shape and able to handle the activity.
Research tour providers: Research different tour providers and read reviews to find a reputable company that offers a safe and enjoyable experience.
Consider the weather: Be aware of the weather forecast for Kiruna during your trip and be prepared for extreme cold, wind and snow.
Follow safety guidelines: Always listen to the tour guide's safety instructions and follow their guidelines for handling the dogs and sleds.
By following these tips, you'll be well-prepared for your winter dog sledding tour in Kiruna and can enjoy a safe and unforgettable experience.